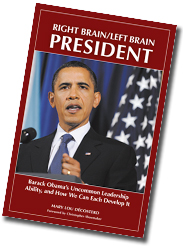 Press Release - September 25, 2012
ABC-CLIO Publishing
Interview with Mary Lou Décosterd, Author of Right Brain/Left Brain President
ABC-CLIO: What prompted you to write Right Brain/Left Brain President: Barack Obama's Uncommon Leadership Ability and How We Can Each Develop It? What "message" do you want to communicate?

Mary Lou Décosterd: I wrote the book to call attention to what a unique leader Barack Obama is – to help readers understand that while he may seem different in many ways, his differences typify the evolution leadership needs to take in order to meet the challenges we face today.


ABC-CLIO: What was the highlight of your research? In the course of your research, what discovery surprised you the most? What surprises readers/others the most about your research?

Mary Lou Décosterd: When I started the book and the research I knew I would find certain definitive leadership strengths that President Obama has – he is brilliant (literally) and he has a combination of determinism and compassion that is truly rare. His unusual upbringing - his mother's background as both a traveled anthropologist and human rights activist would certainly color his world view in a favorable way. When I delved deeper and understood the nature of influence his more rooted maternal grandparents served and came to see how his biological father's proclivities and impediments shaped Obama into the man he both wanted to be and did not want to be, I found it fascinating how Obama took charge of his destiny. This is exceptional for any one and speaks to his potency as a leader.

ABC-CLIO: What readers have told me is how clearly the book maps for them who this man is and why what they previously thought were weaknesses, they could now see as positive leadership traits in him.


ABC-CLIO: How did your research change your outlook on this subject?

Mary Lou Décosterd: I no longer see President Obama as simply interesting and complex, I see him as the model for what leaders should aspire toward. I see how he does in fact leverage right and left brain strong suits in consort in the manner our brains were set up for. I realize writing this now, in the midst of the vastly contested political debate for the 2012 elections, what I am writing may be difficult for some to swallow. The book was never intended to be a political testament. It does not refer to his politics. It refers to the state of leadership today, to the complexities of our world and how Obama can advance us at home and abroad.

ABC-CLIO: How have people reacted to your book and/or the ideas you set forth? Is it what you hoped for, or is there more work to be done?

Mary Lou Décosterd: I have been so touched and pleasantly surprised by the reactions. Leadership students have found the tools accessible and the examples taken directly from Obama's addresses and interviews easy to follow as they chart their own paths. Most surprising has been the reactions from political conservatives who were shocked to use their words by how the book positioned a man that was beforehand troubling to them to say the least.

Additional work though would be with respect to how in my mind Obama underestimated the ingrained political challenges he faced in Washington. I would very much desire to do additional research, perhaps including interviews close to the source on what he will do differently in the years to come, to move the meter in this regard.

ABC-CLIO: What's next for you?

Mary Lou Décosterd: I am currently writing a book on how women are transforming leadership. As a leader, business owner and coach to executives, I feel that it is time for a candid look at the state of leadership today and to be able to set forth more current research on how women's voice and perspectives are sorely needed in shaping the future culture of leadership. We are past the days of women fitting into the masculine leadership culture and at the critical juncture where women need to be let in as equal thought partners.