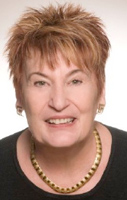 Dr. Jerri L. Frantzve is a management consultant who specializes in leadership development and organizational change. She integrates management experience, research regarding executive development, and a solid grounding in theory and practice into a focused, reflective, experiential approach to individual, team and organizational change.

Projects for recent clients include designing and executing global leadership development programs; improving organizational effectiveness; working with gender, culture, and generational diversity challenges; facilitating strategic planning and team building to boost productivity. She is also an executive coach— who is adept at working with individuals to confront issues necessary for personal and professional change. Recent clients include Armstrong Products, UNICEF, Pfizer, Bank of America, Avon, WWL, NovoNordisk, and Sandia National Laboratories.

Jerri's expertise in psychometrics enables her to select, administer, and facilitate interpretation and application of a wide variety of instruments—MBTI, FIRO-B, Situational Leadership, the Hogan suite of instruments (especially the Derailer), and many more. She also develops, and validates, instruments and surveys for specific organizational needs.

Prior to consulting, Jerri held executive positions at Conoco Phillips, Quaker Oats, and the College of New Rochelle. For over twenty years, Jerri's research focus has been organizational power. Partnering with diverse global organizations has enabled her to interview those in leadership positions and explore their approaches to power, organizational politics, and leadership. She is an accomplished researcher, speaker, coach and trainer who has published two books, copious professional articles, and made numerous presentations at a host of professional international meetings.

Jerri earned a Ph.D. in Organizational Psychology from the University of Georgia, a M.S. in Counseling and Organizational Psychology, and a B.A. in Psychology. She has been a faculty contributor to the Thunderbird School of Global Management, Helsinki School of Economics, University of Houston, and SUNY Binghamton Executive Management programs and is currently an adjunct professor at the Anderson Schools of Management at the University of New Mexico.